The purpose of this page is to record what I remember about the 591st Engineer Company 1966-1968. If I could remember 10% of what I've forgotten, it could be a pretty good story.
I was reassigned from the 24th Combat Engineer Battalion, 4th Armored Division, FRG, in June 1966 to organize, train and deploy the 591st to RVN. I spent most of my 2½ years on the Czech border in command of Charlie Company… genuine 10 months out of 12.
I reported to Ft. Campbell, KY. in June and took command of one PFC, who I made acting First Sergeant, and one slick sleeve, who became the acting supply Sgt. I don't recall the date or their names.
We started to fill in during July with personnel in three groups: (1) a few veterans like 1st Sergeant Shelstad, most of our SFC platoon leaders and some mechanics, cooks , and bakers. (2) SSG section leaders, some of whom had retired as SP5, 62 series MOS and recalled for 2 years one pay grade higher (E6), and (3) recent graduates of AIT, who were both RA and US (volunteers and draftees).
Less then 10% of the 591st were minorities, most were in the mess section and a few in maintenance. We had at least two Eskimos that I recall and SFC R.N. Wahwassuck, "The Chief", whose tribe I've forgotten.
This in stark contrast to the 1,200 man 11th EBC in 1978, in which my Command Sergeant Major and all six of our First Sergeants except one were minority, including one Puerto Rican, and at least 35% of our ranks. If we got nothing else out of the Vietnam war, we got integration of the ranks. Ironically, the first commander of the reactivated 591st Engineer Company (Sapper) was an African American, by the name of Major David Wilson, then Captain.
With the exception of myself and CWO Frank Scott, our officers were fresh out of OCS with experience ranging from 10 years to a few months. They were Lt(s). Ralph Dunn (SSG 101st Master Parachutist), Joe Tidwell, Dwayne Mood and Gary Rogers, 1st, 2nd, 3rd, and support platoon respectively. Lt. Dunn also acted as Executive Officer, because of his seniority. Their Platoon Sergeants were SFCs Sheppard, Urbanek, Wahwassuck and Downey. SFC Kassik ran the maintenance Platoon, our largest.
There were two other Light Equipment Companies organized at the same time at Ft. Campbell: Joe Simoneaux' 15th and Dave Heying's 517th. We were assigned to the newly organized 937th Engineer Group. The 595th was activated at Ft. Riley, KS. on Feb. 25, 1966, with whom we exchanged about 35-40 personnel during Aug/Sept. 1967.
There is some confusion about our parent organization. I recall receiving documentation from the Army Historian that it was the 591st Transportation Company, WWII Red Ball Express, a black outfit with white officers. (Note: There is some information stating that there was a 591st Boat Regiment, in which their duty was to transfer cargo from ship to shore in the Mediterranean area before 1942. It was never listed as an organized active Company).
The Center of Military History, however, reports that we were constituted 19 Dec. 1942 as the 415th Dump Truck Company and inactivated 14 March 1947 in Germany. I can't document the 415th, but it was a black outfit and is obviously the Red Ball Express outfit in question. The 415th was redesignated the 591st Engineer Light Equipment Company 27 June 1947 and was in Korea 20 July 1947 to inactivation 25 Jan. 1949. Curiously, the Korean War started less then six months later on 15 June 1950.
The 595th started as the 3073 Dump Truck Company at FLW in Sept. 1944, was designated as the 595th Dump Truck Company 30 June 1947, reorganized 595th Engineer Company 1 April 1953 and inactivated in Korea 21 Feb. 1955. They were activated 25 Feb. 1966 at Ft. Riley, KS and inactivated 14 Dec. 1970 in RVN.
The 591st Engineer Company (LE) was assigned to the regular army 17 May 1966 and activated 1 July. We were inactivated 1 Jan. 1972, meaning all present for duty were rotated out in 1971 and not replaced. I understand from a 591st officer I met in I Corps near the DMZ sometime Dec. 1970, while coordinating Engineer Command Military Operations for Lam Son 719, that the equipment was pretty worn out by that time.
The 591st was at Ft. Campbell, KY. a year before deployment to RVN, where we had one desertion and one suicide. Active duty lasted 5-½ years including 4-½ in country. I was in command one-year-four months. Our equipment was either already at Ft. Campbell or came in right off the shelf within a few weeks. We were probably up and running by Sept/Oct. 1966.
The barracks were across the street from the 101st Artillery Brigade and we had a building of our own. I recall an incident soon after we started to fill, but don't remember the date. A bunch of lanyard-yankers decided to show the legs what the army was made of. SFC Charlie Downey led the charge down the stairs with newly received ax handles, and that solved the matter for the duration
The motor pool was a few blocks away with an old WWII vintage building which SFC Kassik took charge. The yard was at least 5 acres with a slight slope, in which about a block was contained with a chain link fence.
Our mission was training and maintenance…maintenance and training. The senior NCOs' soon figured out we were training as combat engineers, not plow jockeys, because that's who we would probably support most of the time. Platoons trained separately using the wide-open space at Ft. Campbell without interference. I don't recall bumping into our sister companies and don't even recall where they billeted on the same block. The 937th Group HQ was at the opposite end of the block within view of the Warner Village, where my family was quartered.
We had a couple of company-sized exercises including the construction of a 2,200 foot runway from scratch within 24 hours. That training came in handy for Lt. Gary Rogers at Xuan Loc when he constructed a new LZ within three months of arrival in-country. We also constructed the 2,900 foot long airfield at Blackhorse complete with double-bituminous surface treatment. Still under way when I became the 27th EBC Assistant S3 on 21 Oct. 1967.
The platoon leaders, both officer and NCO, took turns leading convoys around the post, going from no place to no where just for the drill. That training paid off when there was a post-wide alert sometime in 1967 when LTG Bruce Palmer, 18th Airborne Corps Commander, visited the 101st. We were given a muddy field in which to assemble, which we did up to our axels. General Palmer paid us a visit and was utterly amazed that I was unconcerned about getting out. A deed accomplished by our D7 winches. We were the first unit to arrive back at our FT. Campbell motor pool intact and probably the largest.
Convoy drill also came in handy when we went to get our equipment at Newport News, south of Bien Hoa. Tight convoys in RVN were an absolute necessity because of frequent VC ambushes of single dispatches. The platoons convoyed independently 2-7 August with no difficulty because of tight formations, which I coordinated flying between the port and Blackhorse. We also trained as Infantry with "forced marches" and plenty of time on the range. Lot's of bitchin' but it paid off because we had very few casualties and no KIA until after deployment to 1st Corps
We received Movement Directive 4-51 on 17 April 1967 for a PCS to RVN. The Quarry section of Lt. Rogers Support platoon had been deployed earlier because of urgency of need (I don't remember who, what, or when). The equipment was loaded for shipment via the Panama Canal in late May 1967, accompanied by a platoon-sized contingent. Leave began soon after. Lt. Joe Tidwell led the advanced party to Saigon with First Sergeant Shelstad.
Two other companies departed ahead of us. We departed Ft. Campbell on 6 July 1967, boarded the USNS John Pope the same day and sailed on the 7th. There were 153 of us aboard out of 208 total. We were accompanied by eighteen 100-man contingents of Marines led by officers recently promoted from the senior ranks for the sole purpose of leading deployments…the oldest 2nd Lieutenants in the Army Forces.
We had one day ashore on Okinawa 23 July, implored by the Naval OIC not to do so (the Marines did not) and sailed at 5:30 p,m, with no MIA's but a lot of hangovers the next day. Lt. Rogers will surely remember that day (if he can).
After dropping the Marines at Da Nang we arrived at Vung Tau 29 July 1967 and were flown to Blackhorse on C123s on the 30th. I don't know where we would be posted until our arrival at Vung Tau.
We were attached to the 27th Engineer Battalion (Combat), and the officers were welcomed most heartily that night. They were in direct support of the 11th Armored Cavalry, the Blackhorse, who had been in country since Sept. 1966.
Lt. Col (P)___ Richmond commanded the 27th, and was astounded when I requested permission for our troops to wear the 27th EBC crest, which he immediately granted. His experience with the 595th, who had been reassigned from Blackhorse to Bear Cat, was all bad, as it was with the 11th ACR's 919 Engineer Company.
I visited our Quarry section at Gia Ray on the 31st, were I met Lt. Berry who commanded the Quarry Detachment. He was later exchanged for Lt. Mood.
The 27th was facing a 100% officer turnover within a month, and we were the new guys on the block (i.e.raped). Lt. Tidwell was the first, followed by Chief Scott, then Lt. Dunn and Mood, myself and finally First Sergeant Shelstad. Only Lt. Gary Rogers survived to redeploy to I Corps. "On the first day it rained".
Black Horse 1967 – 1968
All of our equipment was at Black Horse by 6 Aug. and construction of the tent frames on concrete pads was underway. It was a new experience for most of our equipment operators and mechanics, MOS 62 all. We began the transfer of about a platoon of troops soon after and moved SFC Urbanek's 2nd platoon to Gia Ray Quarry soon after.
Black Horse was on QL-2 connecting Xuan Loc and Vung Tau, all of which was unoccupied because the former villagers had been "resettled". It became a VC haven. The unpaved road was a constantly used by the 11th Armored Cav and required nearly a whole platoon for maintenance, including widening, gravelling, and drainage. A platoon of the 67th Dump Truck Company was attached to us in Sept.
We were ordered to turn in our five Allis-Chalmers HD 16s in exchange for Five Cat D7s. We got the Cats but kept the AC giving us 15 dozers total, repair parts problem notwithstanding. My Father-in-Law was the Allis-Chalmers Marketing Manager provided me the name of the AC dealers in Saigon, where we got parts free of cost until my successor turned them in.
We convoyed a new 225 Ton rock crusher and conveyors to Gia Ray on 17 Sept, and started reconstruction of the airfield at Black horse soon after. Got a mission to repair QL-2 from Ham Tam on the coast to Xuan Loc and started moving equipment by ship. Sunk two Clark 290 scrappers in the surf at Ham Tam. Recovered by SFC Kassik's mechanics who replaced the head gaskets at low tide to drive them ashore.
Lt. Rogers finished the airfield at Xuan Loc on 20 Oct. by which time we had moved ¼ million cubic yards of earth since August. Relinquished command to Captain Ken Haveman the next day and became the Assistant Ops Officer.
The 591st Started reconstruction of the Black Horse Airfield on 30 Oct and a 2000 foot strip at Tan Linh on 4 Nov. There were 13 lifts of over 2000,000 pounds of equipment for 40 miles north-northeast.
I established a 27 EBC Forward Operations Base (FOB) south of Gia Ray late November when the rainy season ended to support the reconstruction of QL-1 and QL-55 from Ham Tam on the coast to Xuan Loc. It was seven miles east of Soui Cat, which is halfway to Xuan Loc, with about 300, including Dunn's A-27 and the 591st (-).
30 Jan 1968, Tet Offensive: VC owned Xuan Loc. 591st redeployed to I Corps around April 1968, by which time I was reassigned as S3, 86th EBC at Bear Cat.
Capt. Jerry Meyers died 6-11-2019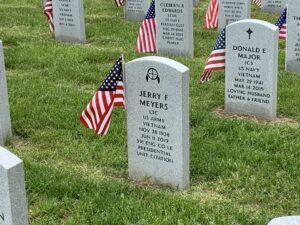 Please contact Ken Kiel with any corrections or errors we have made.